Microsoft Power BI is a suite of Business Intelligence (BI) platform that empowers you to aggregate, analyze, visualize, and share data. It includes several software services, apps, and connectors that work in tandem to bring together unrelated sources of data and translate them into visually immersive, interactive, and valuable insights. This allows you to get a real-time 360-degree view of your business, anytime, anywhere, and on any internet-enabled device, helping you to make effective data-driven decisions.
The biggest strength of Microsoft Power BI is that it can be used by everyone in the organization. With a simple user interface (similar to Microsoft Excel), it does not require any technical expertise. In addition, the ability to integrate with data sources, whether an Excel spreadsheet or a collection of cloud-based and on-premises hybrid data warehouses, makes this business intelligence tool extremely versatile.
Microsoft Power BI consists of four elements – Power BI Desktop, Power BI Service, Power BI Mobile Apps, and Power BI Report Server. While the first three elements allow you to create, share, and consume business insights in a way that best suits your role, the fourth element allows you to publish Power BI reports.
Who can gain from Power BI

ANALYSTS
Using Power BI services, business analysts can gain direct access to data from dashboards. It helps create comprehensive reports which you can turn into actions. It links to many on-premise and cloud-based sources and allows business analysts to generate lively reports. The Power BI desktop tool helps develop an in-depth understanding of various situations.
Turn insight into action.
Ease in creating reports.

DEVELOPERS
Enables developers to create new business applications and keep them in the Microsoft cloud storage. The attached information visuals make up for detailed and accurate reports. They can be accessed and viewed on any device.
Facilitate effortless application building.
Generate high fidelity reports.

BUSINESS USERS
As a BI cloud software tool, it helps the users of business always to remain fully aware of their business processes. Enables you to view dashboards conveniently on any device, and get regular data updates allowing you to work on details.
Frame decisions from anywhere.
Access through the web and phone.

IT
Streamline business operations, accomplish compliance, and maintain the security of your data. It is a Business intelligence (BI) tool that permits the users access to only that data which they require. You can acquire every information from the dashboard.
Attain compliance and security.
Access data from the dashboard.
Microsoft Power BI: Features
To empower you to collect, model, and visualize data, all in a way, that you can discover and share insights,
the Microsoft Power BI platform comes packed with several features and capabilities such as:
Built-in AI capabilities
Power BI dashboard
Excel integration
Prebuilt and custom data connectors
Access to real-time analytics
Powerful semantic models
Open connectivity framework
No-limits Azure data lake
Microsoft Cloud App security
Drag and drop canvas
Hundreds of modern data visuals.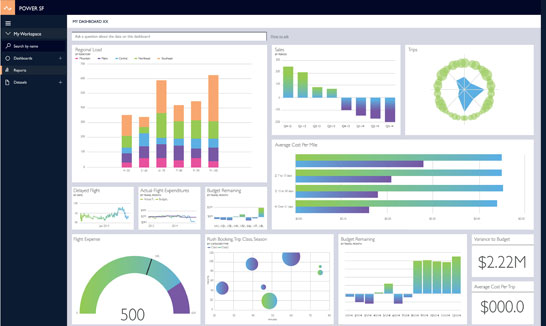 Benefits of Microsoft Power BI Implementation
Microsoft cloud storage used for storing new applications.
Utilize the built-in AI capacity for productive insights.
Personalized dashboards catered to your business needs.
Gain in-depth understanding from data in multiple sources.
It is a business intelligence solution that blends with existing applications.
Generate new Power BI customer success stories for your business.
Microsoft Power BI: User Plans
If you are seeking self-service BI
Power BI Pro
Self-service and modern BI in the cloud Collaboration, publishing, sharing, and ad-hoc analysis Fully managed by Microsoft
If you are looking for advanced analytics, big data support, and on-premises and cloud reporting
Power BI Premium
Advanced administration and deployment controls Enterprise BI, big data analytics, cloud and on-premises reporting Dedicated cloud compute and storage resources Allows any user to consume Power BI content
Let our Microsoft Power BI experts guide you on how to unlock
the best of Power BI services for your business.