Manage Regulatory Compliance Standards in the Pharmaceutical Industry
Having worked alongside Pharmaceutical companies, we know that one of their greatest challenges is to meet regulatory, compliance, quality assurance, and remediation challenges, in addition to their strategic consulting needs. Pharma companies are compelled to alter their compliance practices to conform to changes in regulations and stringent anti-corruption laws.
Pharma ERP Partner, MetaPharma is an ERP Solution for Pharma Industry built on Microsoft Dynamics 365 Business Central. This Pharma ERP solution prompts companies, making FDA compliance a lot easier to achieve. High Priced paperwork errors are reduced, as are the number of preventable recalls. Quality management is strengthened at every stage through sample and batch management tools, accounting, and work schedules. Implementing Pharma Microsoft Dynamics 365 Business Central empowers your teams to achieve their desired results by better managing these complex factors while maintaining stringent industry guidelines and best practices.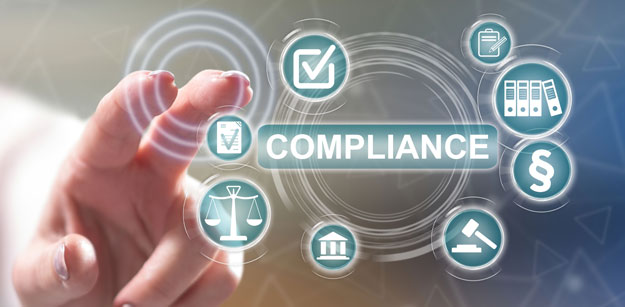 21 CFR for Part 11 (Electronic signatures)
Regulatory Strategy & Compliance
GxP and cGMP Pharmaceutical Quality
Comply with Controlled Substance Ordering System (CSOS)
MetaPharma with CSOS makes it easy for buyers and suppliers of regulated Pharmaceuticals to reduce operational expenses and increase security while ensuring real-time compliance with US Drug Enforcement Administration (DEA) regulations. It Increases speed and efficiency while reducing errors with DEA Form 222 controls to securely sign, validate, and process electronic controlled substance orders with real-time DEA compliance.
Lot tracking records data on a specific quantity of the product and makes it straightforward for makers to trace the raw materials within a particular batch of medicines.
The key drivers of the Pharmaceutical Controlled Substance Ordering System Market are:
Improved customer service
Streamlined operations and reduced redundancy
Error reduction
Greater security
Automation of Reports and Consolidated Orders System (ARCOS) Reporting
MetaPharma reports controlled substances transactions to the DEA via the DEA's automated ARCOS drug reporting system. This database allows the DEA to monitor the flow of controlled substances from the point of manufacture through commercial distribution channels to Pharmaceutical distribution. at the retail level. Covered in the list of controlled substance ordering system transactions tracked by ARCOS are the following: All Schedules I and II materials (manufacturers and distributors). Schedule III narcotics and gamma-hydroxybutyric acid (GHB) materials (manufacturers and distributors) and selected Schedule III and IV psychotropic drugs (manufacturers only).
ARCOS gathers these transactions which are then summarized into reports which give investigators in Federal and state government agencies information which can then be used to identify the diversion of controlled substances into illicit channels of distribution.
Serialization
When it comes to Pharmaceutical serialization, MetaPharma stands alone in its pharma-specific ability to manage labeling and serialization as well as regulatory requirements and is also very flexible to adapt to the various upcoming regulations. Extensive and auditable history in an easily interconnected relational database facilitates the investigation of suspicious product pedigrees. With more than 10 years of experience with industry standards, we enable fully-serialized warehouse processes to meet DSCSA mandates for traceability, as well as standard integration with Microsoft Dynamics 365 Business Central ERP and Advanced Warehouse Management system.
MetaPharma support serialization requirements of DSCSA
It manages all aspects of regulated labeling, including version control, 21 CFR compliance, etc.
MetaPharma manages multiple serial number formats and aggregate serial numbers across all packaging levels, including unit, bundle, carton, and pallets
A history of all serial number which is utilized is kept in the MetaPharma historical database and can be provided as part of the requirement for investigating suspect product pedigree
The solution can be implemented either as an on-premise installation or on the MetaPharma Online infrastructure in the cloud
How Serialization and Track & Trace can drive Business Value?

As a result, you can trace your products from your packaging line through distribution in order to:
Ensure compliance with the DSCSA, GS1 standards, and future mandates
Gain the real-time traceability you need to effectively manage returns and product recalls
Increase customer satisfaction and operational efficiencies with improved order accuracy
Extend the capabilities of your ERP systems by providing the granular functionality that's missing in your packaging, warehousing, and supply chain modules
Protect your brand through the ability to detect counterfeiting and product diversion
Lot Tracking Traceability
Lot Tracking is an effective method that helps Pharmaceutical manufacturers to track and trace their medication. This allows Pharmaceutical companies to remove both counterfeit medications and recalled medications. Lot tracking is necessary for inventory management and supply chain integrity.
Lot tracking records data on a specific quantity of the product and makes it straightforward for makers to trace the raw materials within a particular batch of medicines.
It simplifies the process in determining:
Which batches of medications are ready for purchase
Expired batches and, if necessary
Which batches of medication need to recall
In the event of a recall, lot tracking allows you to easily identify and target the specific problematic batch.
To make this possible, each batch created is assigned a lot number, which is a unique series of numbers specific to that batch. In the event of a recall, manufacturers can use a lot of unique numbers to see when the problem occurred and what products were affected. You can use lot numbers to answer government, or processing questions and create the Pedigrees and ePedigrees required by law.
Lot Tracking is a core component in achieving FDA compliance for many businesses. This feature of MetaPharma also allows you to perform lot costing – tracking verified costs instead of FIFO or average.
Controlled Suspicious Order Monitoring (SOM)
In accordance with Drug Enforcement Administration (DEA) rules, drug manufacturers and distributors are mandatory to design and implement a system that identifies suspicious ordering monitoring activity of controlled substances. The regulation requires manufacturers and distributors to create and use a system that identifies suspicious orders of controlled substances and to report suspicious orders to the local DEA Field Division upon discovery.
The regulation defines suspicious orders as:
Unusual size orders
Orders deviating substantially from a normal pattern
Orders of unusual frequency
Thus, to adhere to DEA regulations, your business requires sophisticated software to accurately track, monitor, and report any suspicious orders. With input from our clients and following industry regulations, MetaPharma Suspicious Order Monitoring uses sophisticated algorithms. It's designed to monitor for suspicious orders, block the shipment of controlled substances to pharmacies when certain thresholds are reached, and report those blocked orders to the Drug Enforcement Administration. We are proud of our Suspicious Order Monitoring functionality and are dedicated to ongoing enhancements.

Medi-Span
Medi-Span is the leading drug data solution that brings together world-class content with technology to support distributors in making decisions. Designed to help reduce errors and provide pharmaceutical professionals with the relevant information required to support their day-to-day decisions, Medi-Span offers a wide array of globally-focused screening solutions for manufacturers and distributors, as well as data solutions to streamline pharmaceutical business processes, from drug pricing analysis, to claims processing, medication therapy management, and dispensing, just to name a few.
Compliance with 21 CFR Part 11
Electronic audit trail function automatically generated for all operator entries
audit trail completely outside the control and access of users (except for read-only access of the audit trail file)
Impossible to disable the audit trail function
System date and time protected from unauthorized change
Data changed or deleted, all previous values still electronically available
Procedure for reissuing forgotten passwords
Signature made up of at least two distinct identification components, such as an identification code and password
Records created for all GMP-relevant changes and deletions (a system-generated "audit trail")
Change or deletion of GMP –relevant data there is a provision for mentioning the reason
Expiry of password and forcing the employee to change
Dual Authentication
Full Transaction Log
Routing Mechanism & Authorisation
Transaction Log methodology
Fully compliant with the latest security standard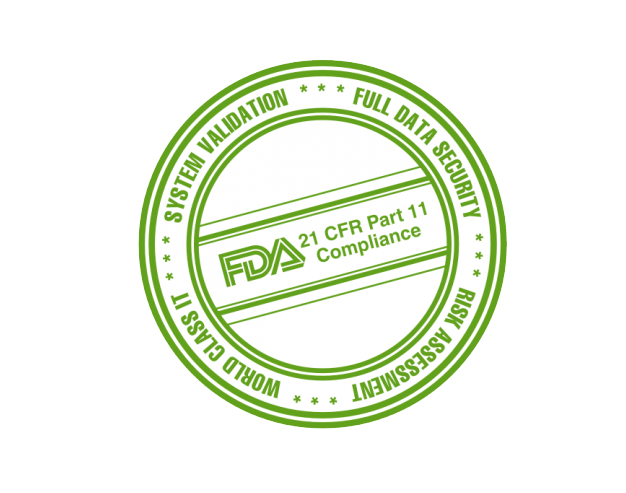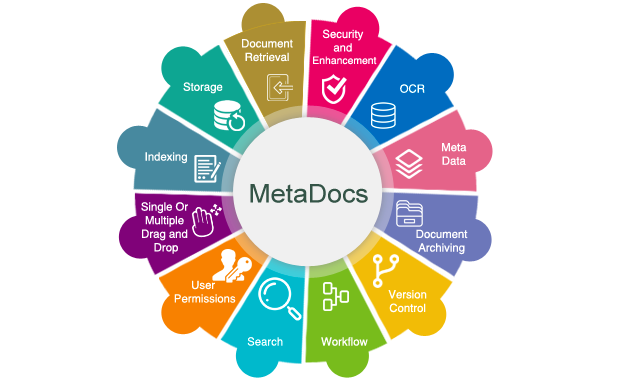 MetaDocs and OCR – Document Management System
MetaDocs – Document Management System (DMS), the document management solution from MetaOption LLC for Dynamics 365 Business Central allows users to easily capture and search for documents related to Dynamics 365 transactions. It's an all-in-one solution for going digital with your accounting-related documents and transaction data. The Document Management System is available as Desktop and Online, which makes it suitable for every kind of work environment.
It offers extensive features such as Drag & Drop from Outlook or a local system, Scanning and OCR, Document Storage in D365 BC Server or cloud, Access Controls and Workflow over and above the full range of Document Management Tools such as Version Control, Document Indexing, user permissions, comprehensive Search and more.
Ultimately, MetaDocs is what SMBs and Enterprises need to increase core efficiencies, reduce operational costs, streamline people and processes spread over different offices, ensure full control over actions and information, and above all, become more efficient!
Let's work together to create positive change in your business
Get in touch to find out how MetaOption can assist you and your business today