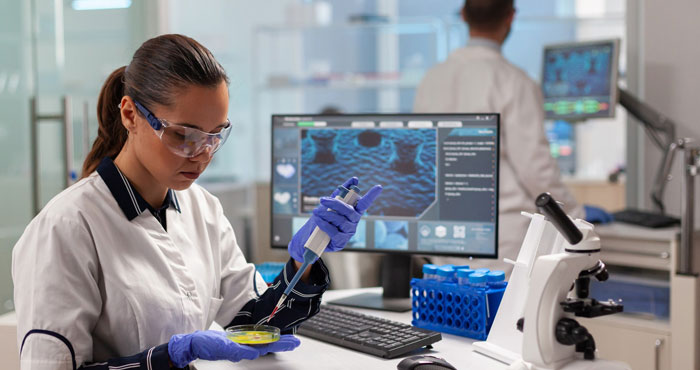 Improving processes and resources by taking advantage of manufacturing and control technology can help. An
ERP software solution
that can help pharmaceutical companies to track data, control processes, and automate various functions can be beneficial in this area. It consists of Batch Processing and Material Requirements Planning modules for managing all
drug-manufacturing processes
.
For the pharmaceutical industry, quality and safety requirements must be stringent to satisfy the health and safety of patients. Increasing competition, changing regulatory requirements, disruptive technologies, and various other factors are pushing pharmaceutical manufacturers to fast track innovation to boost their productivity and product quality.
Benefits of ERP Software in Pharmaceutical Manufacturing
MetaPharma, Pharmaceutical ERP software offers the following benefits:
ERP systems for pharmaceutical manufacturing ensure absolute compliance to the stringent regulations
Eliminate risk by delivering safer products of superior quality at the right price and right time
Introduce new products to market faster and cheaper than competitors do
Real-time batch monitoring to make perfect business decisions
ERP software for the Pharmaceutical Industry helps in maintaining formula secrecy
Respond quickly to customer demands
Smoothen operational process flow and enhance profits
Enhance the quality, consistency, and speed to deliver drugs to market
Control costs through reduced wastage, optimum material utilization, and inventory management
Pharma ERP software offer end-to-end bi-directional traceability, from the raw material to the finished product
This way, ERP software for pharmaceuticals helps manufacturers streamline their entire operations and take proactive informed decisions to outlast the competition.
Ways pharmaceutical manufacturers can improve productivity
Secure data integrity and compliance 
Pharmaceutical industries are subject to strict regulations and standards and must carefully protect the integrity of their data. Finding a proficient, consistent way to do so can help these pharma industries to boost their productivity and their quality.
Maximize productivity and flexibility
Productivity refers to how much input, including time, money, and materials, it takes a business to produce a given amount of output. Therefore, efficiency is closely linked to productivity.
Improve the life of manufacturing assets
An alternative way that pharmaceutical manufacturing business can increase their efficiency is by improving the life and uptime of their machinery. Spending on high-quality tools can help companies to avoid these tools issues.
Integrate the technology 
Pharmaceutical manufacturing processes are difficult, and the facilities hold a wide range of equipment, drugs, and systems. The production process on its own is complex, but you also have to consider the supporting equipment and the building systems. The manufacturing process for pharmaceuticals calls for a tightly controlled environment. Integrating these systems can make it easier to control the production process and environment and ensure it will be optimized to increase productivity.
For more information and a tailored demonstration contact us today at Meta-Pharma.