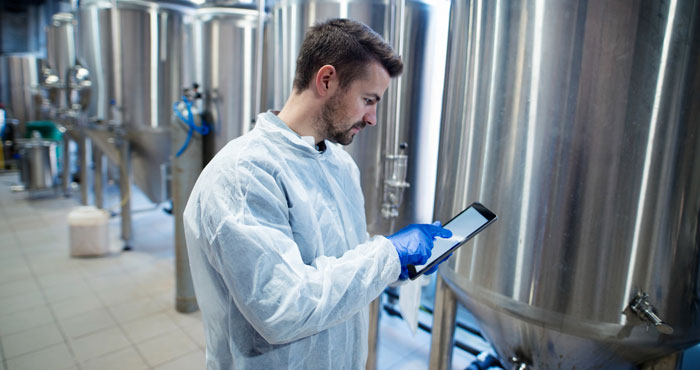 Either it's Large Enterprises or SMEs, the manufacturing segment is the backbone of the pharma industry. The manufacturing SMEs are finding it tough to produce quality products along with healthcare reforms, altering client's needs, exact administration requirements, increasing competition, and growing market drifts. These business challenges have created a dreadful need for streamlining processes, optimizing operations, and maximizing efficiency to deliver quality products at a reduced cost. Going predictably, it's beyond the limits of possibility. That's where Pharmaceutical ERP comes into the image as a powerful solution.
However, many SMEs still have misunderstandings on implementing ERP systems by considering they are too small. But they are living in the biggest myth because the procedure they follow and operations they execute are not unlike large manufacturing firms. Also, they need advanced ERP solutions to enlarge and exceed the competition.
Below are top reasons which reveal that's why SMEs can't afford to overlook Pharmaceutical ERP system implementation:
Comply with regulatory requirements
The pharmaceutical industry is one of the highly regulated industries where lots of quality and regulatory compliances must be abiding by the manufacturers. Traditionally, ensuring compliance with FDA 21 CFR, cGMP, etc. It takes a lot of time, and sometimes, human errors are no exception that results in heavy forfeits. It can be prohibited with an ERP solution that comprises workflows, audit trails, approval controls, quality assurance, and quality control capabilities, and other several features, which makes compliance a waft for the manufacturers.
Managing inventory levels
It is perhaps the most difficult aspect for healthcare companies to deal with. It requires a lot of resources to manage stock efficiently. Meta-Pharma helps you to track inventory and prevent scrap material. It can distinguish material required for production, direct stock administration process, provide stock level reports, and set targets.
Quality Control & Traceability
Quality Control is the main point for a successful and effective ERP system. QC and QA in Pharmaceutical ERP can't be a different "module" yet firmly incorporate with all processes of the Supply chain and Manufacturing. In the Pharma industry, the QC and QA should be inescapable across the whole ERP Pharmaceutical interaction.
Automates Batch Process
Manufacturing ERP software can automate batch processes and help operators in their work. For instance, the operator can look at the batches to standardize processes throughout the manufacturing process. While analyzing batch activity and materials can be done using automatic system checking. Product batches that require sign-off or corrective actions, the system will allow for. It will also record all activities and audits to a database, so it may refer when requires.
Traceability and transparency
Using a system to track the manufacturing of batches from raw material to the finished product will give proper traceability and transparency. It's important if recalls are necessary, to be able to track every product as quickly as possible if problems occur – and it could be useful for audits.
Proper Document management
In the highly regulated pharma industry, it's important to keep a record of all the information and its documentation for future analysis and audit checks. Granular audit trails require any system to utilize in an exceptionally directed industry like pharma. Meta-Pharma helps to keep the data in an organized manner that's kept in silos to meet compliance.
While picking Pharmaceutical ERP system you should consider its capacity to track raw material from receipt through completed item delivery. And, its flexibility to your extraordinary manufacturing process. Meta-Pharma ERP encourages you to direct your business without the need for separate software bundles or costly customization.
For more information about Pharmaceutical ERP and to know how to implement it contact us at Meta-Pharma.